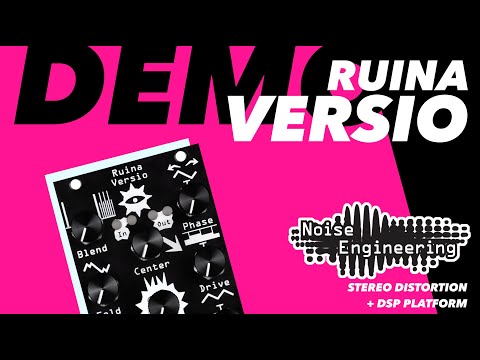 Ruina Versio (Silver)
Description

Stereo distortion with wavefolding, octavizing, phase shifting, multiband saturation, notch filtering, and DOOM.

Ruina Versio answers the age-old question: how many different types of distortion can we fit on a single module? The answer is a lot, as it turns out. Need a wavefolder? We got a wavefolder. Want some multiband distortion? Of course you do! And that's not even including the DOOM parameter! We also decided that Smoosh was a parameter we needed in our lives: press it and add 128dB of drive. Yes, you read that right: 128dB. Why have SOME drive when you can have ALL the drive?

Not only is RV a unique distortion, it's a stereo DSP platform. A simple USB connection allows you to update RV to a variety of firmwares. Open-source support is available, too, which allows you to write your own firmware! All info can be found on the World of Versio page here.
Specifications

Width: 10HP
Power: 70mA @+12V , 70mA @-12V , 0mA @+5V
Tax Excluded for International orders. This price does NOT include Tax